Suck it Talbo.
kateglendon-suckittalbo

My name is Kate. I'm a proud Canadian and I love sports. I play field hockey, volleyball, and soccer and although I don't play them, I love hockey and baseball. My favourite teams are the Pittsburgh Penguins, Windsor Spitfires and San Francisco Giants. I also love the Edmonton Oilers, Toronto Maple Leafs, Chicago Blackhawks, and Toronto Blue Jays. P.S. I'm addicted to country music, Supernatural, and Tom Hiddleston.
creepers :)
Visit my SHOP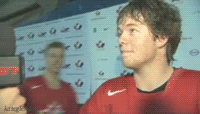 Home
Ask
Submit
My GIFs
Me
fromfailinghands reblogged this from sarahh0ckey and added:

Pretty sure I've reblogged this 18 times..but really… His smile.